Hawaiian Wedding Flowers
Plan a Hawaiian style wedding & reception with fresh hawaiian flowers, tropical flower bouquets, flowers by the stem, orchid leis, tropical foliage, haku headbands, corsages and boutonnières to create the perfect Hawaiian wedding that is as beautiful, memorable, unique and as special as the two of you are.
---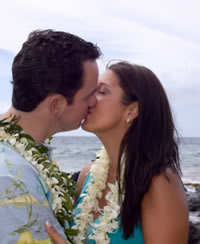 Some suggestions for the perfect Hawaiian themed wedding:
Outdoors in a garden or beach setting is a perfect place to have a Hawaiian wedding, but many back yards with swimming pools make excellent locations as well. Even indoors can be transformed into Hawaii with a few simple steps:
Play Hawaiian music in the background. One of our favorites is the traditional Hawaiian Wedding Song.
Simple white tablecloths with a beautiful Hawaiian flower arrangement or orchid spray as the centerpiece sets a classy contemporary Hawaiian theme.
Ti leaves are used under dishes to be served, either under the actual food on the plate, or in the case of a buffet style lunch or dinner on the buffet table under the serving pieces.
Scatter loose orchid blossoms woven in and out casually along the buffet table and/or on the dining tables. Loose orchid blossoms may also be used to adorn the edges of your cocktails and drinks, scattered anywhere for effect, on the grass, walkway, brides pathway, or on floating dishes with candles in a swimming pool at night which is a beautiful effect. Of course do not forget the loose orchid blossoms for the bride's hair, the bridesmaid's hair, and of course for the flower girl. After the ceremony guests can throw the petals instead of rice at the bride and groom too!
Great idea for your wedding cake: Go with a classic white cake and adorn it with beautiful orchid blossoms – classic elegance, stunning, always in style, and says Hawaii and Aloha in a wonderful way!
We have many ideas to share with you on how to make your big day special and we love weddings, so please feel free to call or email us to help coordinate and assist you in making this special moment in your life a day full of memories to last a lifetime!
Looking for a particular color to match your wedding or special event? Most of the flowers you see here are natural colors but we can mist spray our white orchid leis to match any color you like for your special occasion!
Looking for tropical or beach themed wedding favors? Call us for wedding favor ideas to make Hawaiian themed wedding memorable.
Looking for something really unique for your wedding or special event? Check out our custom order section.
Planning a wedding in the islands? We can help you plan a beautiful ceremony and reception, whether it be a small event for two or a full blown wedding and reception for 200 guests. Click here to inquire about our Hawaiian island wedding planning services.